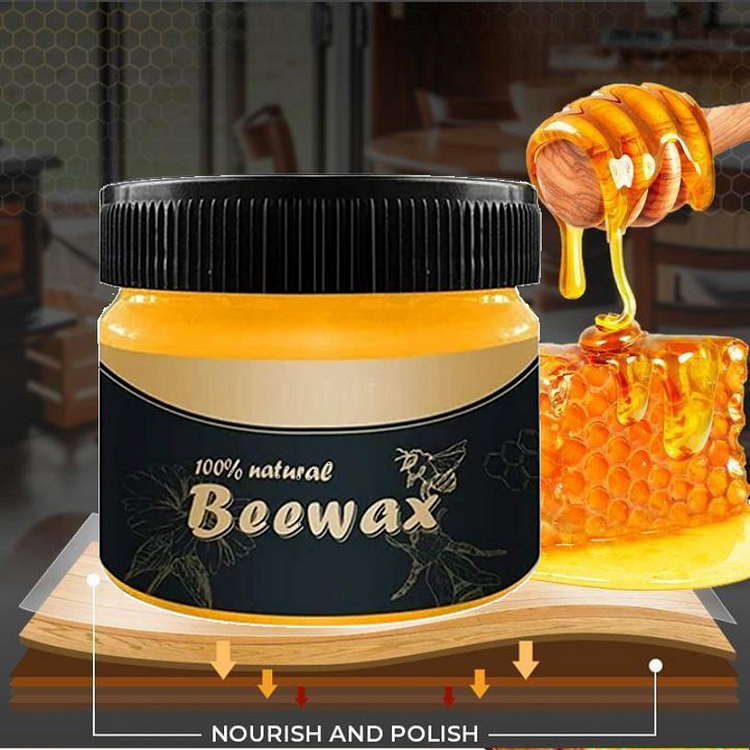 "Bring your dull furniture back into your life Instantly!"
Wood Beeswax is a natural wax used to feed and protect bare wooden surfaces, as well as varnished, oiled or painted wood. It seals and protects all types of wood, giving a long lasting, durable, and natural looking shine. Protect the wooden surfaces, such as wooden furniture from fading caused by sunlight, dust and airborne pollutants, and even water damage.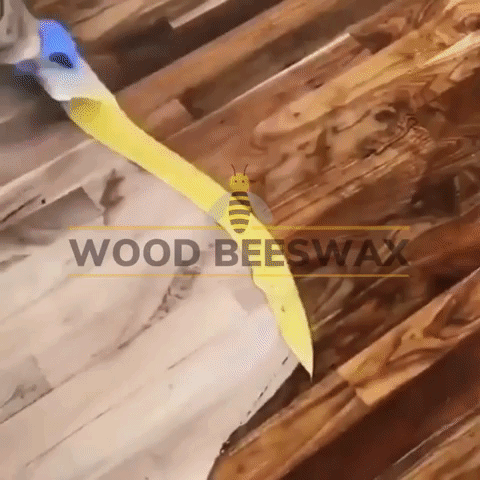 Return your furniture to its new appearance with wood beeswax by applying a layer and waxing you will see the results in just a minutes.
Revitalizing blend prevents drying and cracking of wooden surfaces as it repairs, re-hydrates, and restores.
Gives a fresh and new look to your old dented/scratched wooden furniture, Works to remove scuff marks, grease, grime, and dirt from painted surfaces.
Advanced "Micro-absorbing" Technology means not only cleans your wood furniture but also polishes them to give them long lasting natural shine!
100% Natural and Suitable for all types of treated wood Surface.
Food grade verified, Safe to use in the kitchen, cutting boards, on your baby cribs, and your kids' wooden toys.
Fast & Free Insured shipping from USA Distribution center.
Risk-Free 100% Money back Guarantee with 24*7 Customer support.
Wood Beeswax is designed for use on modern and antique wood, including wooden veneers. Our wood beeswax formula is suitable for treating all natural woods including; Beech, Mahogany, Oak, Pine, Teak, Walnut and more. it can be used on furniture, flooring, doors and all other items of wood around the home. Beeswax is for hardwoods and softwoods too use it with great results.
How To Use
Use professional dust cloth, cotton cloth, or vacuum cleaner to remove dust from wood products.

Take a clean, soft cloth and apply beeswax to the cloth.

Wipe evenly along with the wooden texture.

Take a clean, soft cloth and wipe it along with the wood texture until the surface of the wood is shiny.
Our Wood Beeswax is made entirely from natural beeswax and coconut oil. So, it will solidify at low temperatures. After solidification, it can be heated and then used again after melting.
FAQs
Q. How much floor does this little bottle cover?
A. One bottle can be used for an area of about 108 square feet.
Q. Is Beeswax Good For Wood?
A. Yes - applying beeswax is a natural way to protect wood. It also gives wood a warm glow.
Q. Is this food safe for wood cutting boards, wood cooking spoons, wooden bowls?
A. Yes - this wood wax is made entirely from natural beeswax, safe and healthy.
Q. How often should you use beeswax on furniture?
A. We are recommended polishing your wood furniture at least three to four times a year to keep the wood in top condition.
Q. How long does beeswax take to dry on wood?
A. Let the beeswax dry on wood from 20 minutes to 1 hour.
Q. Can i use beeswax to seal wood?
A. Yes - we can use beeswax to seal wood.
Q. Does beeswax make floors slippery?
A. Beeswax will form a protective film on the surface of the wood and will not cause the surface to be sticky or too smooth. Don't worry about slipping when you walk on the floor.
Q. Does wax darken wood?
A. At first glance, when you start to apply a coat, wax can darken the surface of wood. But once the wax dries, the surface will return somewhat to its original shade (although it will be a shade or two darker). Adding more and more coats, over time, will darken the color of the wood too.
Specification
Ingredients: Natural Beeswax

Beeswax Form: Paste

Weight: 85 gm
OUR GUARANTEE
100% Money-Back Guaranteed.

Tracking number for every order.

Delivery time 2-5 business days.

Safe payments &

No hidden fees!
24/7 Support [email protected]