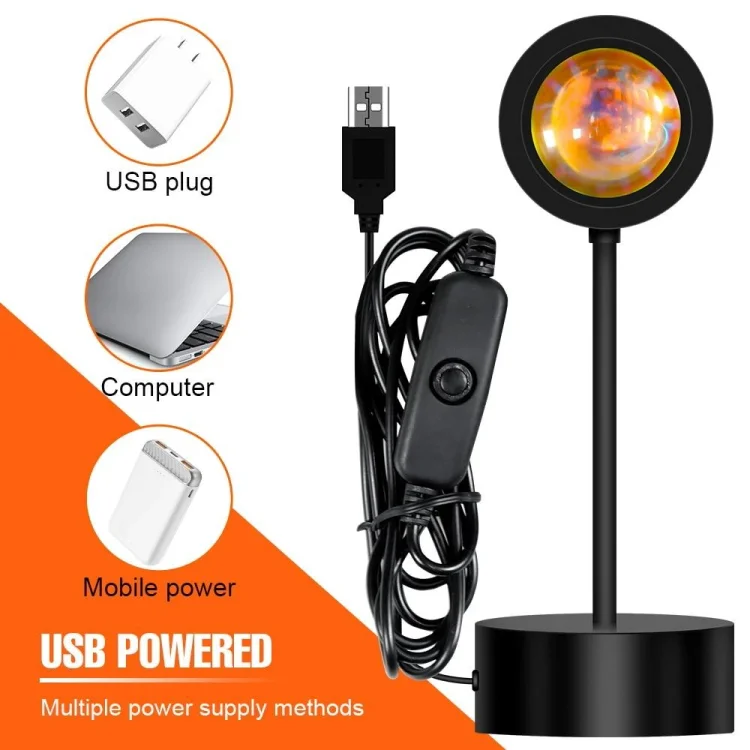 Your Instagram photoshoots are going to be lit!
Literally, the best thing I've ever purchased!!!!! Your confidence skyrockets and your photos come out so good!!
Have you ever seen an outstanding Instagram page with gorgeous photos and wished that you would have a similar account? Now you can have an even more impressive Instagram/social media experience!
With our new product, you will feel a lot more confident with yourself and your photoshoots!
"It's sooooo good to take pictures, and you can also play the game of shadows. Now I can enjoy the sunset in the house, and enjoy my life."
-Anne
The best mood changer money can buy!
It is hard to keep up with these new trends every time they appear, but with this Sunset Lamp, you don't have to worry anymore!
It is medically proved that our lamp will boost your mood. Plus, it will create ambiance in your home, light up your room beautifully, and offer you a unique vibe.
"I love this product! It's nice and bright. Great for photos and make the room look amazing! I really enjoy it."
-Patty
Bring the sunset wherever you are!
We specially designed it with a USB cable having multiple power supply methods so you don't have to worry about where to plug it.
Besides the lamp drunks your room with aesthetic, warm, and calmy light, giving you a romantic background, it is also proven that the Sunset Lamp can change the way you see life
.
"Beautiful photography with this lamp. I try it out in my room and even my boyfriend loved it. It gives such a warm effect to pictures."
-Amanda
Features
The lamp adopts high-efficiency chips, high brightness, uniform, and sufficient light, solve the problem of uneven illumination, make the lighting effect full of vitality, the excellent decorative effect creates a comfortable atmosphere.

There are four color films, which can be matched with different colors according to personal needs. You can use one color film or multiple color films to create different colors. One lamp can present multiple colors.
360°flexible metal tube, you can bend the light pole arbitrarily, adjust the lighting angle, can meet the lighting needs of everyone.
Built-in radiator, efficient heat dissipation, effectively extend the use time of the lamp and make the lifespan of the lamp up to 50,000 hours.
Wire control switch, flexible control of light on/off, ready to use.
High-quality precision optical lens, high light transmittance, high refractive index, high color saturation, low loss rate.
USB powered, multiple power supply methods, mobile use is more convenient.
Energy-saving and environmental protection, no heat generating, low power consumption, efficient heat dissipation, low light decay, stable performance, uniform light color, no dark corners, protect your eyes.
Specifications
Power supply: USB

Voltage: 5V
LED type: SMD3535
Light Color:15 colors in total
Color type: It comes with 2, 3, or 4 films. Four color films can DIY 15 colors.
Line length: 1.5M
Color rendering: CRI 80+
Material: Aluminum+ABS
Product size: Lens diameter: 8cm, Lamp height: 26.5cm, Base diameter: 9.9cm
Projection area: The farther the distance, the greater the projection that the projection light can project on the wall or ceiling
Frequently Asked Questions
What is a sunset lamp for?
-Essentially, the lamps are a specialized light that projects a warm, calming glow across any room, mimicking a sunset.
-Sun lamps are generally considered safe because they don't give off UV radiation.
Does the sunset lamp look like a real natural sunset?
-We sampled the real sunset light effect and imitated it with advanced processing technology, basically restored the most real sunset lighting.
Does it need to buy a special bulb?
-There's no need in buying anything more, it has everything you need.
Will it burn my plants if I use it to make shadows of my plants?
-No, it will not burn anything.