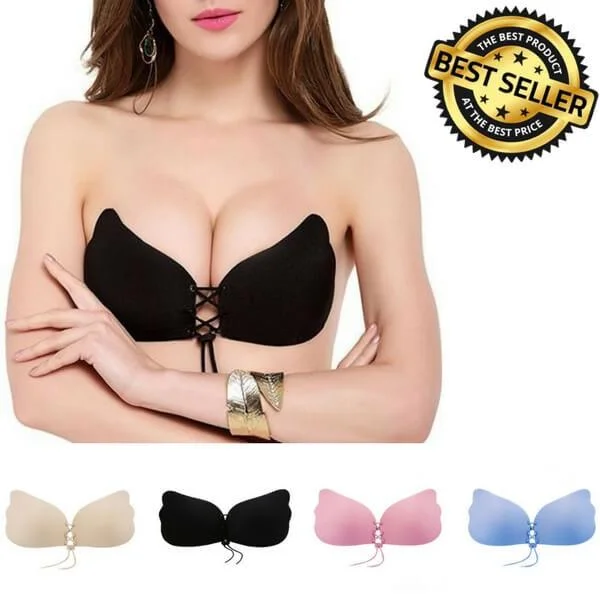 Description
Need some extra cups without anyone noticing? This strapless, backless push-up stick on bra is a MUST HAVE! It is made of Ultra-Lite fabric and medical grade organic adhesive gel for enhanced comfort. You will even forget you're wearing a strapless and seamless bra under your sexy dress.
!Hack Your Cleavage!
Laboratory Tested – Leaves No Redness – Totally Invisible
The strapless backless wireless bra is soft to the touch and invisible to the eye for a sleek and seamless look. It will stay in place without sliding even in rough conditions, giving you that perfect cleavage all the sexy ladies show off.
!See it in action!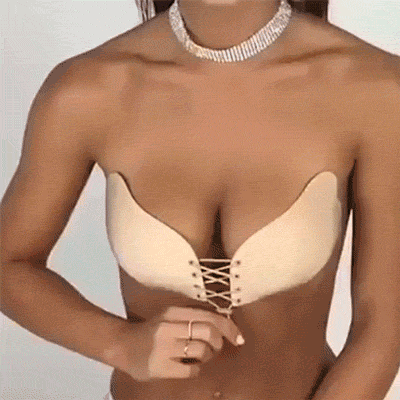 What size should I get?

Get your usual cup size A, B, C, or D. If. you're on the smaller side of your cup size, we recommend going down a size. No need to worry about the band size here.
How to Find your Cup Size
STEP 1: MEASURE YOUR BAND
Stand in front of a mirror wearing a lightly lined or unlined bra. Bring a soft measuring tape across your back at band level, under each arm, and measure around the front just below the bust. Round down to the nearest even number.
Example: 40"

STEP 2: MEASURE YOUR BUST
Measure around the fullest part of the bust making sure that the tape is parallel to the groung and isn't too tight or too loose. Round up to the nearest whole number.
Example: 44"

STEP 3: DO THE MATH
Subtract your band measurment from your bust measurement.
Example: 44" - 40" = 4"

STEP 4: FIND YOUR CUP SIZE
The difference between the band and bust measurement determines your cup size.

2" - B Cup
3" - C Cup
4" - D Cup
5" - DD Cup
6" - DDD Cup
Example: 4" = D cup
Features
Ultra-lightweight Natural Feel
Made of Ultra-Lite fabric and medical grade adhesive gel
Seamless, Strapless & Backless
Highly durable and designed to prevent slippage
Reusable and can be worn many times over
Laboratory tested
Suitable for sensitive skin
Leaves no redness or residue on skin when removed
How to Wear
Start by cleaning your chest area to remove residue and body oil from your skin.
Dry your skin with a soft towel and make sure you do not use any powders, oils or fragrances close to the chest area before applying you sticky push-up bra.
Place the inner part of the wireless bra on both sides of you breasts and tighten the lace until you're satisfied with your cleavage.
Press the seamless bra firmly but gently on your breasts for 5 seconds to secure the hold.
Enjoy your sexy cleavage + freedom and comfort provided by your backless strapless push-up bra.
How to Care for
Simply wash with warm water and mild soap then air dry. Once your strapless push-up bra is dry, the adhesive regenerates itself for next use - make sure surface is clear of debris.
Fabric
The outer part of the strapless push-up bra is made of 91% Nylon and 9% Spandex. The inner part is made of 100% Silicone.