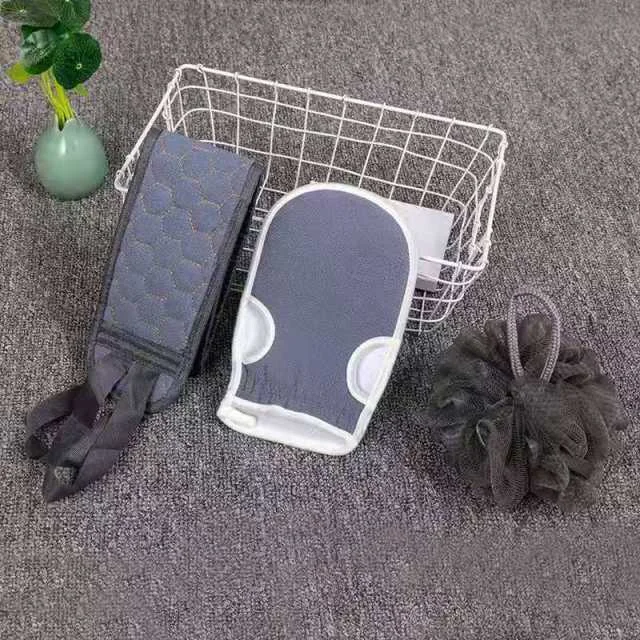 Great for kids, kids, adults and the elderly. Make your bath and shower time the most relaxing time of your day.

Splish Splash Scrubber is designed to reach inaccessible areas. It is also used for exfoliation, deep cleansing and proper body circulation. Feel the difference for yourself!



benefit:

Hydration - Designed to hydrate your skin and body while improving healthier and smoother skin. Exfoliate - Prevents breakouts and penetrates into pores to cleanse dirt and dead skin. Revitalize - Helps you reveal radiant skin that feels fresh and clean after every use. Irritating - Boosts blood circulation in your body and gently cleanses the skin's most sensitive areas.

additional:

Massage - Great for deep muscle massage, including neck and back. The massage beads on the other side of the Splish Splash Scrubber quickly wipe away dirt, massage the skin, relax the muscles and relieve stress. It may also help eliminate your daily fatigue.
Calluses Removal - Not only does it work on dirty and dry skin, it also smoothes calluses and removes them with regular use.
Deep Cleansing - It helps to penetrate deep into pores and cleanse of dirt and dead skin.
Natural Skin Care - Skin care functions help to eliminate clogged pores and remove dead skin cells. It fights dry skin, rough skin, rashes, eczema, back acne and other skin problems, leaving skin feeling silky smooth.



feature:

Double Sided - One side has soft bristles to cleanse your skin; the other end is convex spherical to promote blood circulation.
LIGHTWEIGHT - Our new patented design features durable lightweight materials.
Dual Handle Straps - Extra grip and strength. With handles sewn securely on both sides. The shoulder straps allow easier access to the lower back and also allow for easy drying. Hygienic Material - Stain-resistant, Splish Splash Scrubber is more hygienic, lasts longer, and is more stretchy than traditional bath towels.

emphasize:

SUPER DURABLE - Splish Splash Scrubber is made of high quality super soft material which is durable and much better than traditional loofah. It will not spread like a loofah and can be used for a long time, suitable for all ages.
EASY TO USE - Handles on both sides give you easier access to your lower back. The foldable function is convenient for you to use at home or on vacation or on business trips, providing the ultimate spa experience to your skin anytime, anywhere.
Deep Cleansing - Great for touching any part of your body, including feet, heels, legs, arms, neck, back and more. The cleansing bristles are soft enough for your comfort and tough enough to thoroughly cleanse the skin.
Quick Dry - Extremely fast drying honeycomb material. Hang it up to keep it dry. Plus, it's easy to rinse off after use.

The 2021 package includes:

back scrubber
shower gloves
bath sponge
100% Satisfaction Guarantee and Easy Money BackVisa、Mastercard、Amex、Discover、Apple Pay or PayPal guarantees the checkout process is 100% safe and secure。

High demand and orders arrive in 25-25 days on average
Due to extremely high demand, orders take approximately 23-35 business days to ship and arrive. Please be patient, we are doing our best to fulfill every order we receive.

Money Back Guarantee
We want you to be 100% satisfied with your purchases from us. If for any reason you are not satisfied with your purchase, we offer an ironclad money-back guarantee.

If you need help, please contact us. Buying online can be a daunting task, so we want you to realize that buying and trying items is risk-free.