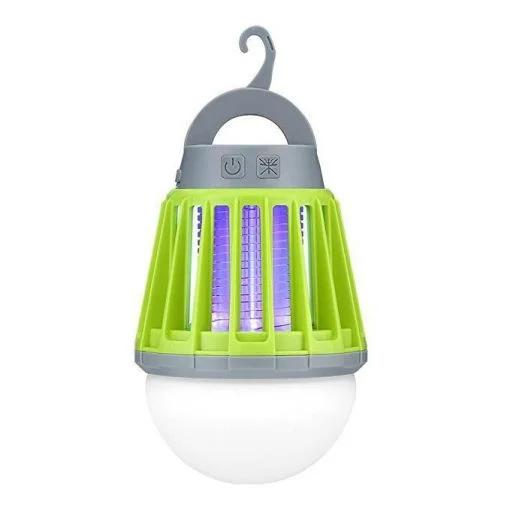 This efficient Mosquito Killer Lantern has a zapper function that utilizes 360nm-400nm ultraviolet light bulbs. The Lantern effectively clears a 16ft. by 16ft. area, providing you with a mosquito free zone! No more fussing with those pesky mosquito coils or smelly bug sprays, NOT with this highly effective mosquito repellent! The Mosquito Killer Lantern is IPX6 waterproof and lightening proof, so it's perfect to add to your camping gear, plus, it's very easy to clean.
This amazing Mosquito Killer Lantern is a MUST HAVE item when camping out. Lantern comes with a USB rechargeable battery, which means you can plug it right into your computer, a USB wall charger or even a portable battery pack. It has a smart chip, so it can't be overcharged and it has a 1 watt LED bulb that measures at 6000K, so it provides a bright, white light.
This mosquito zapper has 4 lighting options: The low setting gives off 20% of the lamp's light. The middle level gives off 50% of the lamp's light and there's also a high setting that gives off 100% of the lamp's light. However, the mosquito zapper setting is probably the best setting on this lamp! The lantern measures 5in. tall x 3.5in. wide, so it's perfectly compact and easy to transport.
Not only does the Mosquito Killer Lantern give off the perfect glow, it also performs well and has a long lifespan. For each charge, this lantern has 20 hours of battery life- while in mosquito zapping mode. It also has a convenient hook, which makes it easy to hang from a branch, in your tent or from a string.
Lantern comes in Orange, Green or Black