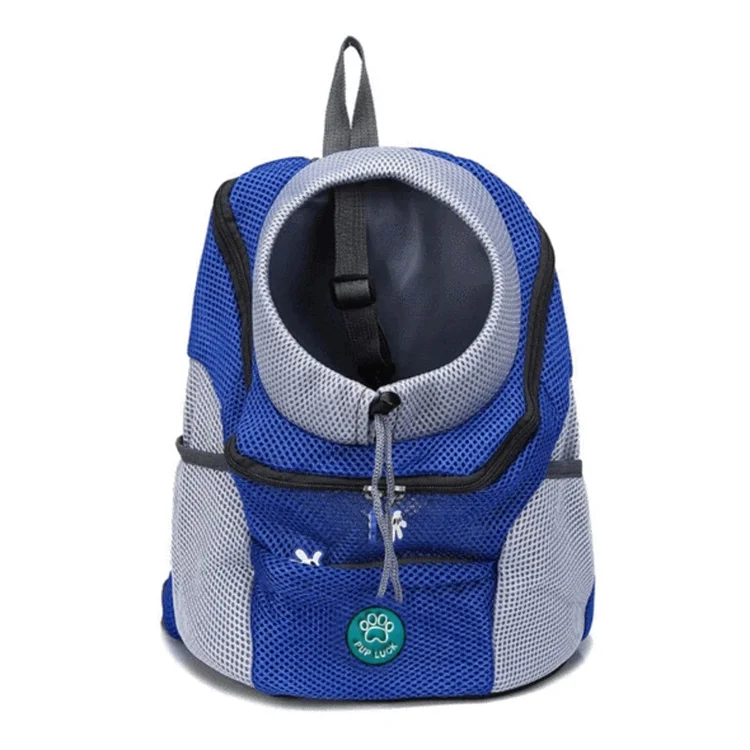 WHY WE HAVE THE NO.1 DOGGY RUCKSACK
Our premium Doggy Rucksack has been specially designed with high-quality breathable material so your pup can explore every adventure with you in comfort and style!
93% of customers reported that our Doggy Rucksack is extremely useful for everyday use, and has allowed their pups to travel with them more. More time for bonding with each other!
Whilst 35% followed up with a message expressing how the Doggy Rucksack improved their day trips as they didn't have to leave their dogs behind.
No Dog Deserves To Feel Frightened Or Left Behind!

BECOME ONE OF OUR SATISFIED CUSTOMERS
"After I started using the dog carrying backpack for my Poppy, she became more cheerful and doesn't whine as much as I don't have to leave her alone at home."
★★★★★
Karen, London

PRODUCT HIGHLIGHTS
DON'T EVER HAVE TO LEAVE YOUR DOG AT HOME AGAIN - We know how hard it is to leave your pup behind and having to face those sad puppy dog eyes. Our Doggy Rucksack is designed so you can take your pup with you: cycling, hiking, shopping, etc. The possibilities are endless!
SAFE, COMFORTABLE, EASY & FUN - Our Doggy Rucksack is made from high-quality, breathable, mesh material to keep your dog cool in any weather so you'll never have to worry about them overheating! See our features section for all the details that have your pup in mind.
CONVENIENT FOR EVERYDAY USE AND TRAVEL - Unique peep-hole window design allows your dog to keep their head extended, ventilate, and visible to have more communication and interaction with you.
TAKE YOUR DOGS THE EXTRA DISTANCE - Does your dog suffer from anxiety, depression, or have a physical disability? Or maybe just older or doesn't have the stamina for your next big adventure. Problem solved with our Doggy Rucksack...no more FOMO for your doggo.
LET YOUR PUP EXPLORE IN STYLE - A stylish solution to carrying your little pooch around without needing to worry about their safety.
KEEP IT ALL IN ONE PLACE - 3 additional pockets that are perfect to keep your dog's water, poop bags, treats, toys, etc. Never forget anything on an adventure again!
Features
Our Doggy Rucksack is designed with a thick rest bottom pad and an adjustable cavity size so your pup can fit perfectly. The Doggy Rucksack includes 3 pockets (1 front pocket and 2 side pockets) so you can store all your dog essentials when going on your adventures. For extra safety, there is a safety hook to attach to your pup's collar preventing them from jumping out. And for your personal comfort, the Doggy Rucksack has been designed with 2 thick shoulder straps and a hip belt, that help to minimise any jerky movements.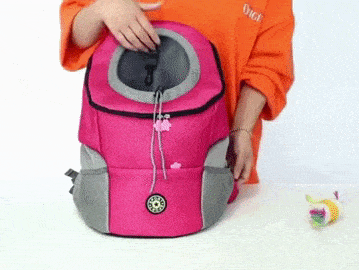 Specifications
Small: 34cm (H) x 30cm (W) (<9lbs / <4kg)
Medium: 45cm (H) x 36cm (W) (<18lbs / <8kg)
Large: 55cm (H) x 41cm (W) (<27lbs / <12kg)
Extra Large: 65cm (H) x 51cm (W) (<40lbs / <18kg)
Material: Nylon
Colours: Pink, Orange, Blue, Green & Black
Benefits of Using our Doggy Rucksack
Perfect for dogs with a fear of going on walks, to slowly introduce walks back into their lives.
More time to spend with you pup means more time for bonding!
You don't have to worry about turning back when your pup gets tired when you have a Doggy Rucksack!
Your dog can explore parts of the World like never before!
Size Guide
Our Customer
Our greatest priority is you: the customer. We require that our store, checkout, delivery and every area of our customers' experience is of the highest standard possible. This means that:
The customer always comes first,
We have a secure checkout,
We have a free worldwide shipping policy,
Our support team is ready and waiting for any questions you have.
While we can't guarantee a 100% issue free experience, we can 100% guarantee that we will always act swiftly to resolve any issues in the unlikely event in which they occur.
Any questions?
We are happy to help!
FAQs
Q: Does my dog fit in this Backpack?
A: Our Carrier Backpacks are suitable for small and medium dogs and cats with 3 different bag sizes.
Please check the size guide for additional help to find the perfect size!

Q: Do dog carrier rucksacks work well for long trips?
A: These backpacks definitely work well for long trips. Just be sure to choose an ergonomic design for yourself too. Backpack carriers are more convenient than shoulder bags in terms of taking the pressure off your cervical and lumbar spine.

Q: How do I clean this carrier?
A: You can wipe, vacuum, or wash it.