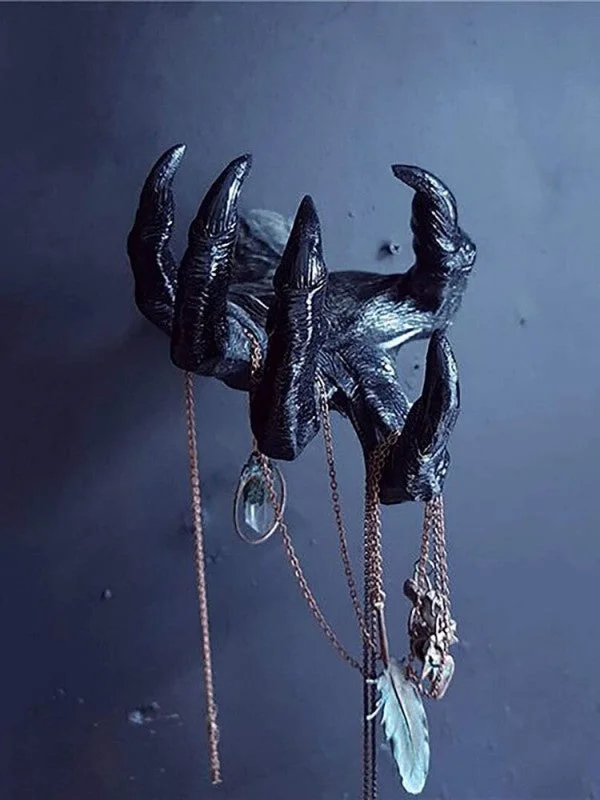 Panixa
Put your jewelry in mythical hands!
Great decoration for fans of mythical mood. Made of high quality resin in unique modeling design, you can easily mount the demon hand on the wall. It is sure to be an eye-catcher on your next visit!
ORDER NOW AT A SPECIAL PRICE
If you also like unusual and creepy key holders then you've come to the right place. Strike and have the absolutely creepy eye-catcher at your home.
Characteristics
Retro design Mythical fantasy decoration that creates a mysterious atmosphere in your room. Can be used as a wall hanger for light items such as keys or jewelry.
Handmade statues Materials used are acrylic, matte and glossy lacquers. Put them in your room and decorate your room, such as desk, table, bookshelf, shelf, dining table, bedside table. Let your home (room) still have a picturesque place.
Premium Quality Handcrafted from high quality durable resin with exquisite details. Unique modeling design, simple design concept, delicate and exquisite workmanship, this is not only a product, but also a combination of works of art with fashionable charm, bringing aesthetic enjoyment to life.
Perfect Gift Great decor piece for living room, bedroom, kitchen, basement, hallway, foyer, dining room, bathroom, indoor, outdoor, indoor, outdoor, office, complementing modern, contemporary or traditional home decor.
product details
Article: wall hook
Color: Black
Material: resin
Size: 13.5*21.5cm
Package included: 1 * wall hook
ORDER NOW AT A SPECIAL PRICE
🎁 Panixa - the ideal gift 🎁
Great decoration gift
for living room, scary room or party room. 👻