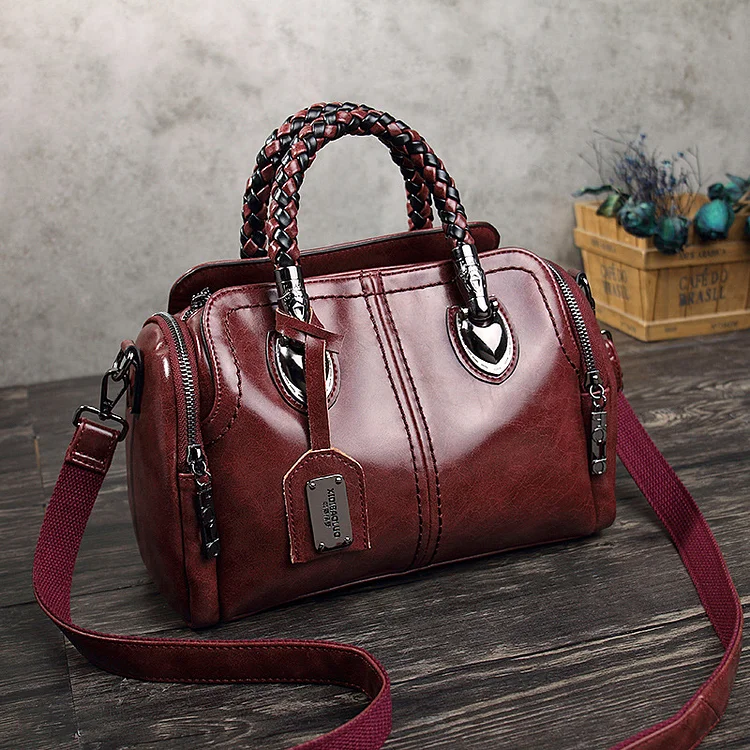 Stylish Boston Bag: Made of modern retro oil wax leather, warm color provides a relaxed and comfortable feeling, simple and practical retro style shows women's gentle and beautiful temperament.

Three Main Pockets for Larger Capacity: The bag is divided into three main pockets for easy storage of items in different categories. Storage is clear at a glance, easy to pick up and place. The large-capacity main bag can store iPads, umbrellas, mobile phones, power banks, cosmetics and other daily belongings.

Characteristic Woven Bag + Textured Headphones: The bag is combined with a special woven bag, which further enhances the fashion sense of the bag. The handle connection is decorated with textured earcups, which highlights the quality of the bag.

Textured accessories: sturdy hardware accessories, gold texture polishing, beautiful gloss, not easy to rust, beautify the bag's fashion style and highlight the quality
Well-designed, wear-resistant rivets: The metal rivets at the bottom of the bag are designed to effectively prevent moisture and scratches at the bottom of the bag, prolonging the service life, and the ingenious craftsmanship shows the quality of ingenuity .