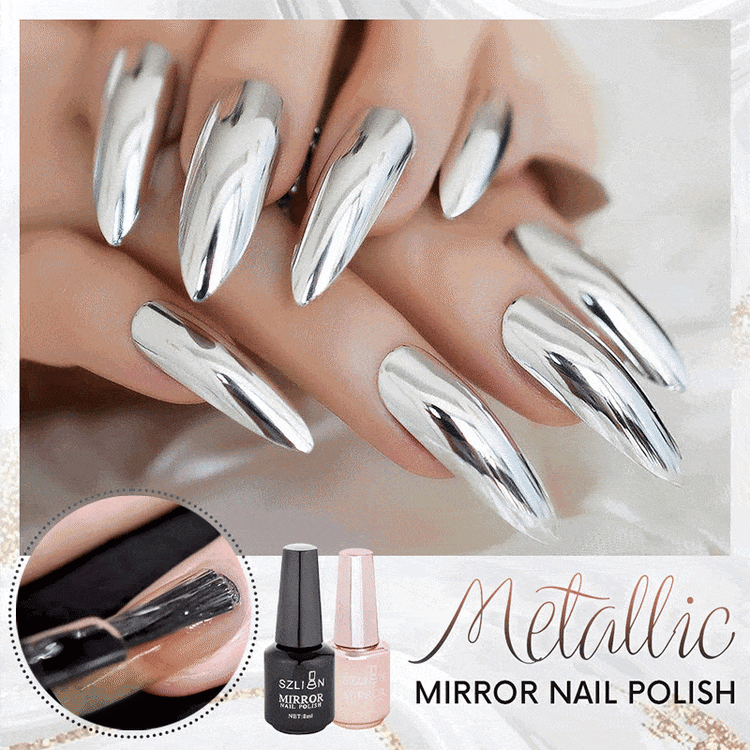 Get stunning metallic mirror nails in just one step!

No need for powders, gels and primers - the high-pigment formula gives you rich color and a stunning chrome finish in no time. Perfect for beginners, the precise brush lets you glide effortlessly for even, flawless application. Available in 7 intense, shimmery, quick-drying colors that are easy to remove without damage, play with these to add a bold touch to your everyday makeup!

feature

stunning metallic chrome nails
The high-pigment formula glides on effortlessly and gives you glamorous mirrored nails in seconds.

easy to apply
Comes with a precise brush that allows everyone to apply nails with ease.
durable, no
Chips Refresh your nails with 2 weeks of use.
Vibrant Chrome
These colors are highly pigmented and glossy like gel nails - use these to match your OOTD!
easy to remove
Non-toxic, odor-free formula
Protects the nail bed from chemicals that dry and brittle nails.
Specification

Capacity: 8ml
Colors: Silver, Champagne, Sparkling Pink, Rose Gold, Bronze, Classic Red, Electric Pink, Charming Purple, Neon Blue, Mystic