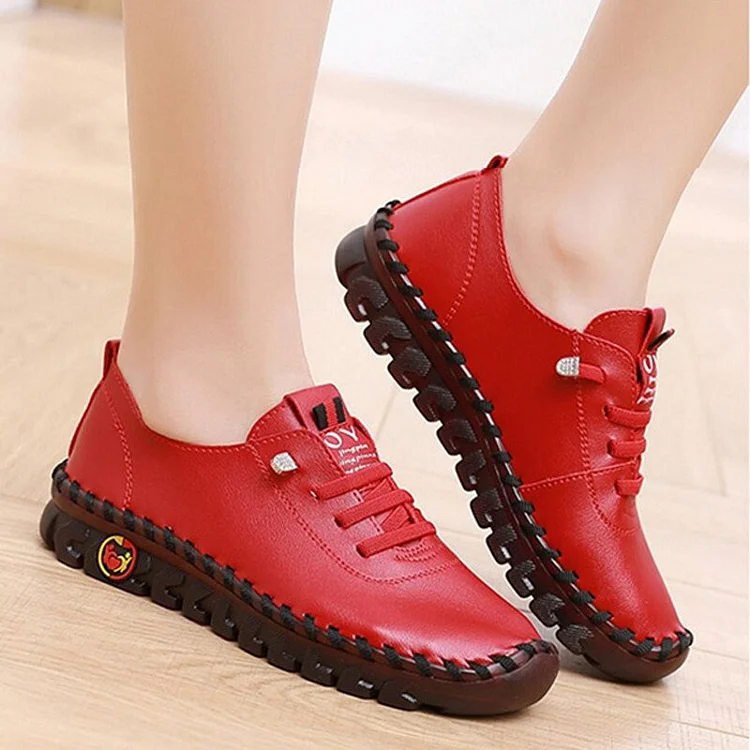 The ultimate in comfort and style you can get!
Looking for shoes that are breathable, beautiful and easy to wear? Then our elastic slip-on flat shoes are the perfect choice! They are made with a custom mix of materials to maximize comfort while remaining stylish.
Excellent support and improves posture
These slip-on shoes are flexible, lightweight and super comfortable! It features an innovative ortho-cushion system with the premium orthotic insole and cushioned sole that absorbs shock to ensure a pain-free walking experience wherever you go.
Characteristics:
Premium Materials: Made of waterproof PU leather upper for long-lasting comfort, soft cushioning and offers excellent breathability and flexibility.
Ergonomic Design: The orthopedic innovation offers cushioned insoles to protect your feet from hard surfaces and relieve foot pain during long walks.
Durable and non-slip: The shoes have strong rubber insoles with slip and wear-resistant properties to prevent wear and tear and give you a lightweight feel.
Smart and Versatile: From job interviews, dinners, parties or just running errands, these pretty shoes are a must-have.
Size chart (cm)
| | |
| --- | --- |
| Shoe size | Foot size |
| 35 | 22.5 |
| 36 | 23 |
| 37 | 23.5 |
| 38 | 24 |
| 39 | 24.5 |
| 40 | 25 |
| 41 | 25.5 |
Specifications: 
Material: PU leather, TPR
Color: Red, White, Black
Size: 35, 36, 37, 38, 39, 40, 41
GUARANTEE
Displeased? Money Back - Many satisfied customers have preceded you in receiving the latest and greatest products. We stand behind our products 100%, which is why we offer a "money back guarantee": 30 days after receiving the product you can return it.
Contact us - We help you make the right decisions. We are committed to impeccable customer service, available 24/7 for questions and/or complaints.
Free Shipping - Because we find it important to keep costs as low as possible for you, we always offer free shipping within the Netherlands and Belgium.