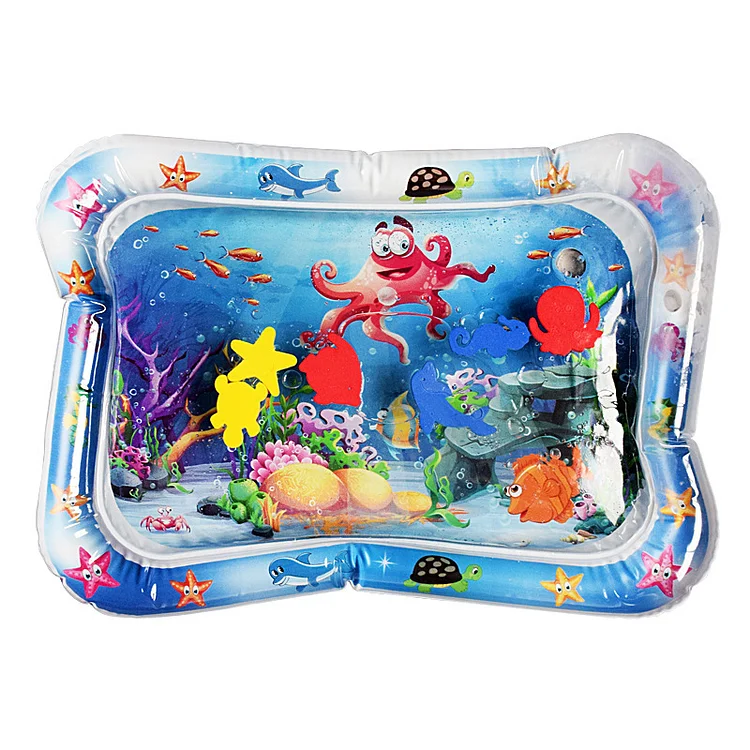 Educational mat for children. baby water pad
The inflatable water mat for babies is made of high-quality PVC (BPA-free), which is very durable. The rim of the mat should be inflated with air and the center filled with water. The mat is easy to maintain, it is enough to wipe it with a wet cloth. In addition, it is easy to store because it takes up very little space when folded. Another advantage is that you can take it with you everywhere.
Inside the mat there are colorful sea animals. While walking on the mat, the child sets the animals in motion, the animals move in the water and thus intrigue the child
How does the mat develop a baby?
Sensory development: the mat develops all of the baby's senses, eyesight, concentration, focus, touch are just some of the senses developed by playing with the mat thanks to beautiful colors, moving animals and the sound of splashing water.
Development of motor coordination: from birth, doctors order the babies to be placed on their tummy in order to develop the whole body posture of the baby. The water mat is a great alternative to the floor and ordinary mats, because it additionally stimulates the child through curiosity and play. Learning through play will quickly make your child crawl, and his muscles will develop properly, and the posture will be impeccable.
A hot water bottle and a remedy for colic and stomach ache: this is another underappreciated use of the mat. Pour warm water into the mat and use it as a hot water bottle. Remember to put a blanket or a nappy between the mat and the baby. A hot water bottle will relieve stomach pain, and colorful elements and fun will additionally distract the child from pain.
Develops a child's imagination.
The toy is packed in a nice box, perfect for a gift.
Inflatable Water Educational Sensory Mat for babies
An inflatable water mat is a great solution for parents who like to combine business with pleasure. Great fun, a sensory function, the development of coordination, a way to prevent colic and stomach pain are just a few of the advantages of this gadget!


Package dimensions: 15 x 14 x 5 cm

The dimensions of the mat after inflation: 66 x 50 cm

Age: 3 months +

The toy is CE, EN71 certified.