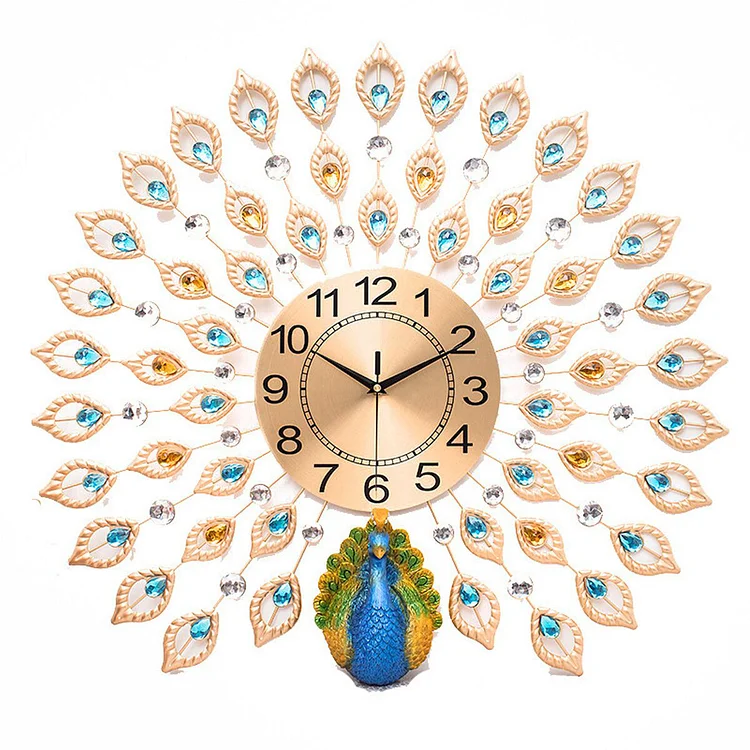 This wall clock offers an opportunity to enhance the design of your space, enhance your wall decor and add functionality to your room. Display it on its own or make the clock a stylish accessory on a gallery wall. The design even allows you to display multiple time zones from the kitchen and bedroom to the living and dining area, and home decor makes your house feel like home.
Peacock is the king of birds. Peacock is a kind, intelligent, freedom-loving and peaceful bird, and a symbol of happiness. In Greek mythology, the peacock symbolizes the goddess Hera. In the legend, the peacock is the pseudonym of "Phoenix", which symbolizes the harmonious female appearance.
The peacock is a symbol of auspiciousness, and the opening of the peacock is a great auspicious thing
feature
Handcrafted craftsmanship, decorating the clock with shiny rhinestones, using metallic lacquer Exquisite craftsmanship can greatly reduce the load torque in the movement, the basis for precise clock hands
Great for housewarming gifts, holiday gifts, and more. Give your family better love and add a touch of warmth to your life. The design of this decorative metal wall clock is inspired by the shape of a water drop. Metallic droplets with shiny accents complement most room decor. The black dial and design suits any wall color and decor.

Product Category: Modern and Contemporary

Silent/No Tick: Yes

Color: Gold.Silver

Shape: Novelty

Frame Material: Metal

Frame Material Details: Iron

Alerts do not:

Bell: no

Battery Required: Yes

Battery type: AA (not included)

Number of batteries required: 1 (not included)

Movement Machinery: Quartz/Crystal

Natural variation: no natural variation

Time Format: Standard

Special features: none

Exposed Clock: Yes

You can return a large appliance within 30 days of delivery, as long as it has not been installed and returned in its original packaging

Before installing the equipment, please double check the following when the equipment arrives:

1) Scan the box for damage.

2) Make sure the product name and model number match your order confirmation.

3) Unpack and inspect the device.