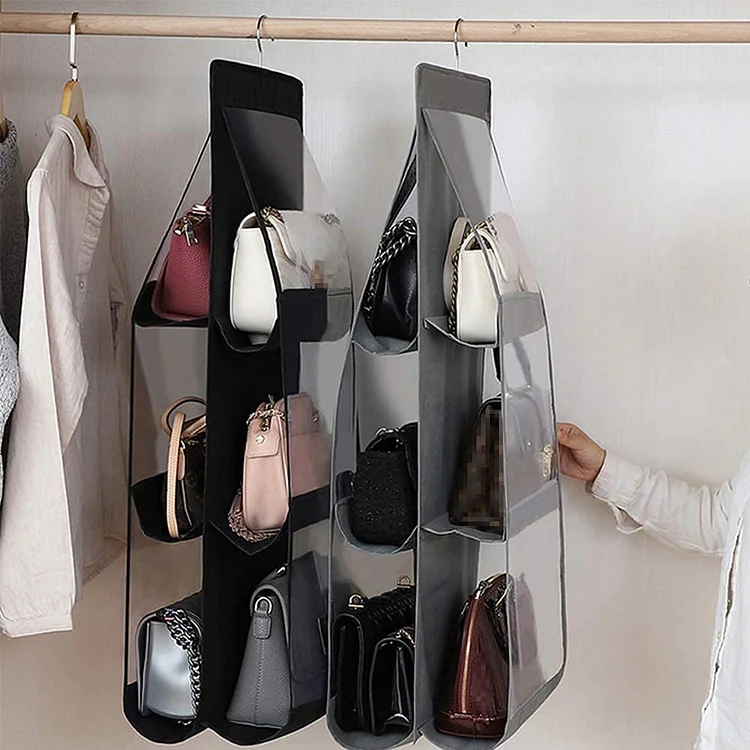 A perfect organizing solution for your purses & clutches!!
Protect your handbags from getting squashed and dirty. Store anything from adult handbags, shoes, purses, sweaters to scarfs, hats.
High-quality Materials
Quality PVC+non-woven fabric is not easy to be damaged and deformed, not easy to shrink and three-dimensional shape, classifies storage, neat and orderly.
Easy To Clean
The quality PVC material has the function of waterproof and dustproof, only need to wipe the surface gently with a wet wipe, saving time and effort.
Stainless Steel Hook
High-quality hook, good load-bearing capacity. Electroplated stainless steel hook,no rust bearing quality is good.
The perfect wallet storage solution
Made of non-woven fabric and transparent PVC with 6 compartments.
This hanging handbag closet organizer saves closet shelf space while neatly storing purses, small blankets, sheets, towels, shoes, pocketbooks, bags and other linens.
Handbag organizer with the crystal see-through design and convenient files styling makes it easy to view and select the right bags or stuff for any occasion, saving your time.
A perfect purse storage solution and displays your purses nicely. 6 generously sized slots; 3 in the front and 3 in the back of the purse organizer storage system allows for plenty of handbag storage and purse organization.
Hanging Handbag Holder Dimensions: 13.7"L x 13.7"W x 35.4"H.