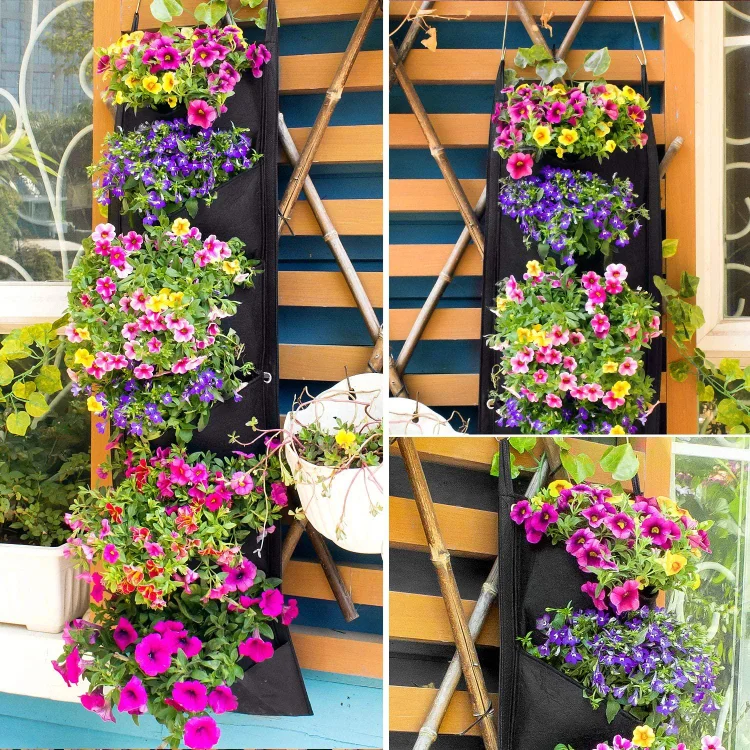 If you are not satisfied with the product, you can return it free of charge within 30 days.
🌎Global warehouse address:USA(Boston)/AU(Sydney)/CA(Toronto)
🔒Transport Guarantee>> We cooperate with UPS, FedEx or other well-known express companies.
🔥Worldwide Free shipping on order over $69.99🔥
Hanging Garden Flower Pots
This vertical hanging planter makes a great stylish addition to any part of your home or patio. Turn any static or ugly place into an aesthetic, vibrant, lush vertical garden. A cost-efficient way to increase the value of your property!

WELL DONE HOLDER
Hanging planters back waterproof layer effectively protects the wall without any stains, and the leak-proof design of the bottom makes your ground not dirty.

REUSABLE MATERIAL
Hanging garden grow bags are made of Felt Cloth, which is a high-quality environmental protection material. Practically this growing bag can make a great environment for your plants, such as herbs, strawberries, flowers, vegetables, and so on.

ADVANCED TECHNOLOGY
Our felt

garden

bags are not only waterproof, they are also breathable!
When the plant has enough moisture, the hanging grows bags will automatically ooze excess water to maintain a comfortable growth environment. Sturdy and corrosion-resistant, the decorative planting pockets are really suitable for hanging anywhere, your room, living room, kitchen, garden, loft, and more.

EASY TO INSTALL AND MOVE
The hanging pot is easy to install using zip ties or hooks. Hang in fences, balcony gardens, supermarket walls, garden nurseries, and so on. Wait for seeds to germinate and bloom, you'll be successful in creating a colorful "living wall painting".
Advantages:
The roots are not easy to grow around.
Soil balls are small and easy to lose.
Transplantation is quick and easy and transplant season is prolonged.
Can reduce the number of costs.
Transplant survival rate and quality increased significantly.
Easy and quick operation.
Steps for Usage
Step 1: Simply hang on hooks on the wall.
Step 2: Add three-quarters of the nutrition soil and water retention agent.
Step 3: Put seedlings in it.
Step 4: Water the plants regularly.
Package Includes:
1 x Hanging Garden Flower Pots
Specification:
Material: felt
Size: 40 x 11.8 inches
Pocket: 7
Main color: black
Using forms: wall-mounted
Package Include: 1 X 7 Pockets Planting Bag