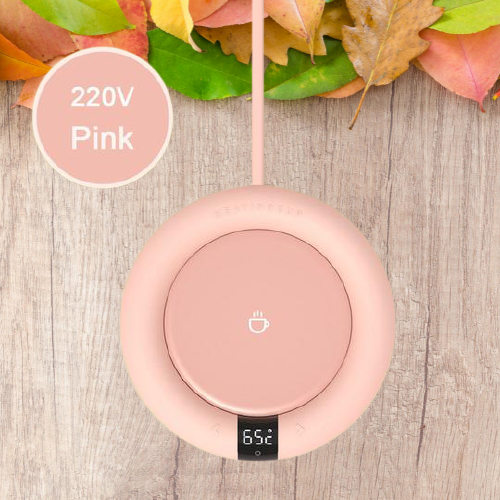 Notice: Don't get fooled by the copy product !!!
-Are you tired of wasting your coffee or tea?
problem solved,
- Never let your hot drink go cold again,
- Keep your favourite hot drink at the perfect temperature as long as you like,
- Perfect for those going back to the office or for anyone who likes to sip on a hot drink while working from home.
- Just plug in at your desk, set the temperature and enjoy when you are ready to drink.
- cup warmer has 3 temperature settings, a smart touch display, and a round edge design so you can keep your favourite drink warm for all 8 uninterrupted hours at your choice of 3 different temperatures.
- It also comes with a universal adapter so no matter which country you are in, you will be sure to have the perfect hot drink.
Product Information
Product weight: 280gr/9.87oz
Cable length: 1.6m/5.25ft
Heating pad size: 124x124x26mm
Works on the 220-50HZ power supply.
Universal power plug adaptor included
Smart Visual touch screen
3 adjustable temperatures

131°F (55°C), 149°F (65°C), 167°F (75°C)

Sleep mode: automatically turns off after 8 hours of continuous use giving you peace of mind.
The package comes with 1 Piece smart Cup Warmer
Hey, You can use with these as well
Mugs
Ceramics
Glasses
Boxed drinks
Its Features and Benefits
Cup Warmer features 3 adjustable temperatures of 131°F (55°C), 149°F (65°C), 167°F (75°C).
Smart visual touch screen
The smart visual touch screen allows you to set your preferred temperature and keep your coffee, tea, milk, water and any beverage warm all day long. The heat conduction is efficient & safe, the surface under the Cup Warmer will not get hot.
Auto-off mode
Not only does it help you conserve energy, but the "Auto-Off" feature also makes it so that the Smart Cup Warmer will automatically turn off after 8 hours of continuous use giving you peace of mind.
Round-edge design
It has a unique design and feature that no other cup warmer has. The round-edge design can securely hold any size of cups and protect your hands. It adopts sealed-insulation technology, so you never have to worry if you accidentally spill your drink on it.
Environmentally friendly
It doesn't produce unpleasant noise. It is perfectly useful for people who work early morning, late night and quiet office environment.
Lightweight and portable
It can fit into your bag if you ever want to bring it to work and it will keep your favourite hot drinks at the right temperature allowing you to be worry-free all day.
Can make a gift
cup warmer is beautifully designed and comes with satisfying colour so you can wrap it as a gift to your loved ones