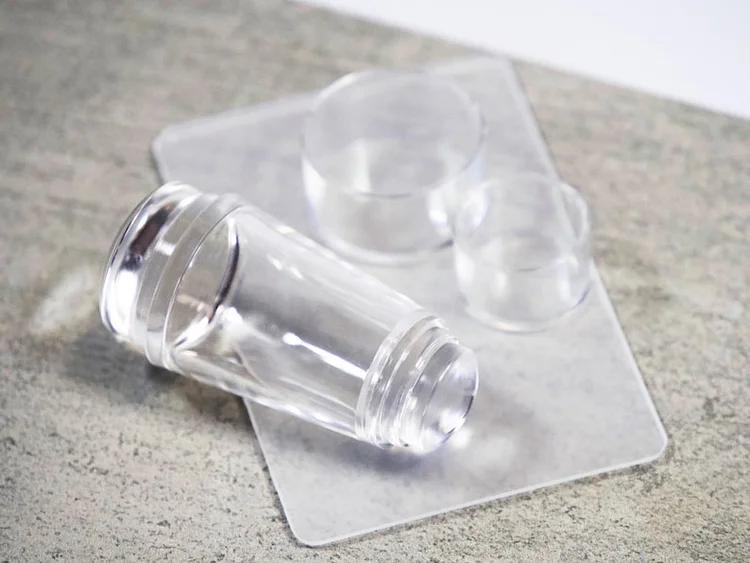 Material: Plastic and Silicone

hint:
To quickly clean your stamper without damaging it, use a strip of packing tape to pick up any remaining polishing bits.
Try grabbing images from left to right and top to bottom. This will distribute the polish more evenly around the large space.

Purpose of nails:
Hello, if you are looking for nail art supplies, you have come to the right place. Create your colorful nail art at home, make your life efficient and save money, 3D nail decoration is your best choice. You can DIY your nails with these dazzling gadgets, and you'll be the most special person out there.
Whether you lean towards drama or seek simplicity, I've got you covered.
Have fun as you peruse the products on display, I hope you find what you're looking for.


♥ NO MORE GUESSWORK - The Big Bling allows you to see where you stamp so you can accurately place nail art images on your fingernail.
♥ CAN'T DRAW OR PAINT - no problem! With the Clear Jelly Stamper system, you can be creative without an art degree!
♥ NEED A FUN NEW HOBBY? - Nail art stamping can give you a fun and rewarding hobby. Hobbies can make you feel good and can relieve stress.
♥ CONFIDENCE BOOSTER - displaying your beautiful fingernails can be a real boost to your confidence, and your friends are sure to be very impressed with your creative skills.
♥ GREAT WAY TO SPEND TIME - Nail art stamping is an excellent pastime to share with friends and family, but don't forget the children in your life, they love playing with nail art. Even elderly people can also benefit from having fun nails to brighten their day.

*****Fast Shipping on All Orders*****
♥ Free shipping for your order over $69.99!
♥ Our goal is to ship all orders within 1-2 business days.

--------------------------------------------------