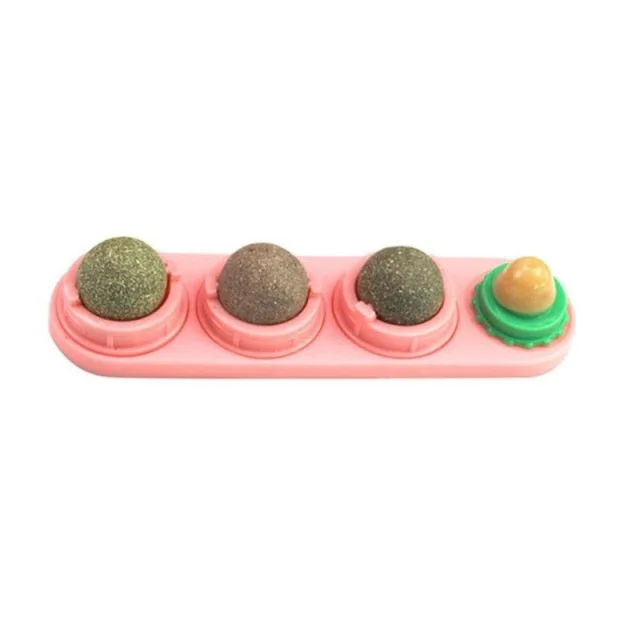 Features:Reliable material: Made of natural catnip and silvervine, these catnip toys' edible balls are safe and reliable can be applied with your confidence; a Catnip ball can play with your pet, which is a nice entertainment for cats, bringing your cats more fun playtime.
Rotating Cat Funny Toy: Delicious lickable catnip ball will rotate with the cat's tongue, the cat will stop playing and lick, which with a dust cover for hygiene. Interactive play can improve your cat's overall wellness & happiness.
Cat's catnip toy: Designed for cats' playing with, easily attract the interest of pet cats, make them funny while enhancing the cat's appetite and freshen breath, help to clear the hair in the cat's stomach, and regulate its mood.
Special 4-1 design: Each catnip toy is consists of 3 pieces of ball snacks with different flavors and a cat pet candy, enough for your cats to use, each snack ball can rotate up and down when the cat licks it.
Easy to use: Featured with double-sided adhesive and equipped with other adhesives for each ball, these catnip balls for kittens are easy to be removed separately and apply. Just paste to the bed, sofa, door, wall, window, and other furniture, bringing a happy mood to you and your cat.
Warming tips: The unopened shelf life is 18 months, please store it in a dry place and avoid direct sunlight, please also control the times of the cat's eating, avoiding to eat too much for each time, come with covers, you can close the cover when not in use to protect from loss of taste.
Specifications:Item Type: Catnip ToyMaterial: Catnip, Silvervine, Gall FruitTarget Audience: CatDimensions: Bottom 19.5*5.2cm Ball 3cm