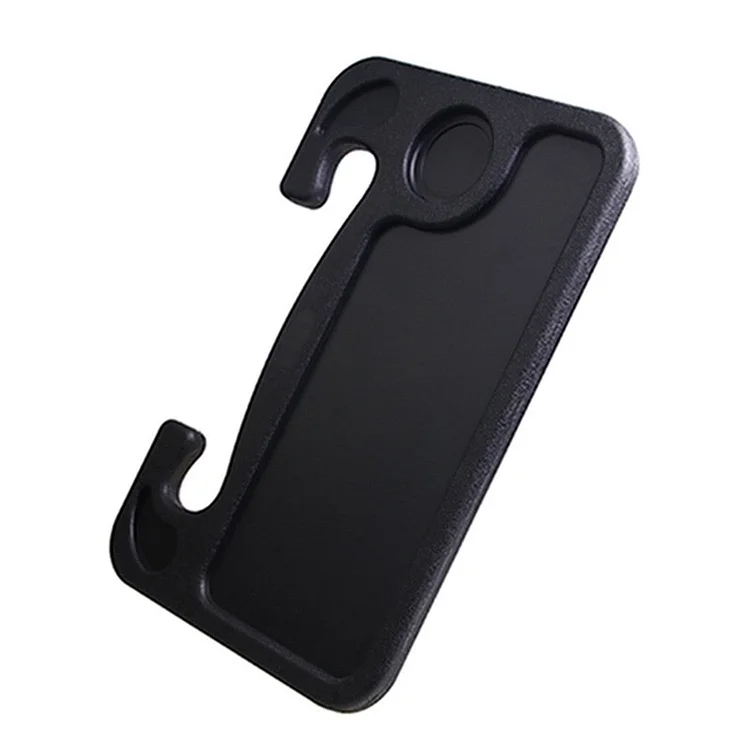 NEED TO WORK OR EAT IN THE CAR?
The Car Steering Wheel Tray provides a comfortable and convenient table to do writing, reading or eating in the car, at the driver's seat (parked…of course). It provides a very convenient, comfortable, and productive use of the car space and your time. The two-sided, multi-function, car steering wheel desk is a must-have for your car. You can easily pull and hook this tray to the car's steering wheel to do computer work, for writing a report, or for eating a meal on the go. Just make sure your car is parked at that time though!
About This Product
The car steering wheel tray table is very light and easy to carry, and it provides good support to laptops, notepads, books, and food. You can hook it to your steering wheel and get an instant desk. It can be easily stored when not in use. It is slim and ergonomic, a perfect choice to use for work or eating while travelling. This multipurpose portable car desk is designed to fit most vehicles steering wheels. It is easy to install and easy to keep it clean.
The working / eating car steering wheel tray is made of high-quality plastic that is durable. This Car steering wheel Tray has two sides. One side is a food tray holder, with a cup holder to support your drink, can, water bottle, or coffee cup. You can use the rest of that side for your other meal items. You can easily eat in your car without creating a mess.
The other side of the steering wheel table is a laptop computer desk mount stand / notebook tray, with a pen holder. You can use this side for computer work or paperwork, to type, chat, watch videos, study, read a book or write some hardcopy notes. You can have your workstation in your car. Let it be zoom meetings, an important mail or email that you have to send while traveling, or a beauty makeup session, it can all be done on the go, with your car parked obviously.
Product Details
Steering wheel table – laptop desk / food tray, convenience, useful, lightweight, sturdy, easy to install car accessory.
Package: 1 x Car Steering Wheel Tray
Color: grey or black
Approx. Dim: Outside: ¾ x 16 ½ x 11 x ¾ inches (2.0 x 42.0 x 28.0 cm). Opening: 7 + 11 x [1 ½ - 2] inches (18.0 + 28.0 x [4.0 – 5.0] cm)
Material: plastic
Give yourself the gift of better use of your car! Know anyone that needs this, inspector, agent, student, frequent vehicle breaks?
FREE SHIPPING! - Note: Due to high demand, please allow 7-13 days for delivery.