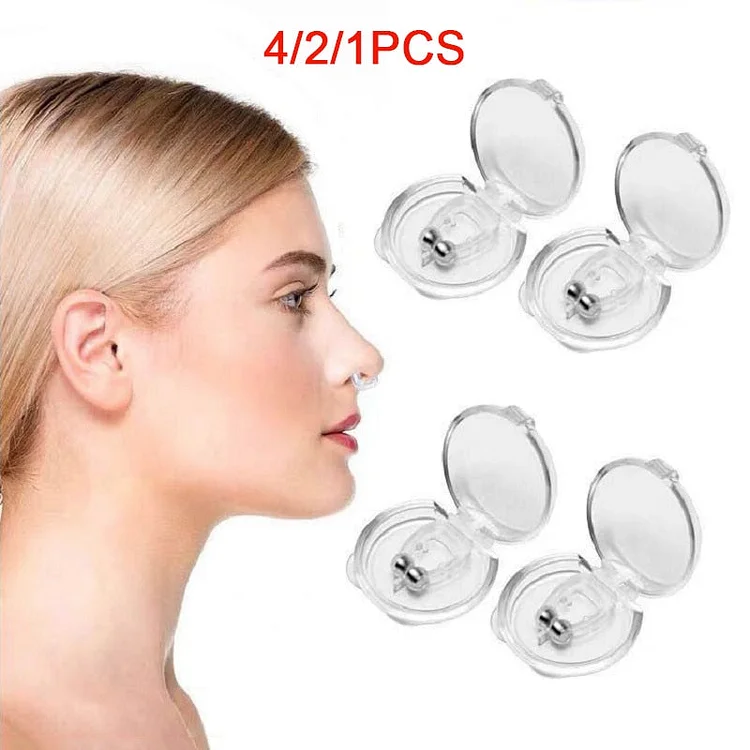 【Upgrade Anti-Snoring Device】Our anti-snoring nose clip is scientifically designed to maximize airflow in your nasal cavity and stop snoring. Our anti-snoring device helps to open up your nasal passages while you sleep, keeping your tongue in its normal position. Anti-snoring nose clip is a simple and effective way to eliminate snoring.

【High Quality and Comfortable to Wear】The 2022 version of the magnetic anti-snoring nose clip is made of high-quality soft and elastic silicone, which is comfortable to wear and almost invisible. The anti-snoring device has a smooth surface and a comfortable feel.

【Multifunctional】Our anti-snoring device is made of soft silicone, which is safe and convenient to fit any shape of nostrils. The snorer can not only prevent normal snoring, but also change oral breathing habits during sleep.

【Easy to use and reusable】Just clip your nose when you sleep. Without pain or hurting your nose, the anti-snoring device increases breathing during sleep. The magnetic anti-snoring nose clip is reusable and easy to clean. Comes with a PVC storage box for easy storage and portability.

【Hygienic Box Included】Our anti-snoring device is packaged in a reusable plastic box to keep the anti-snoring nose clip hygienic, dust-proof and loss-proof. The snoring plug packaging is also great as a travel case or as a gift for someone with snoring problems.


Material: silicone
Color: transparent
Size: 1.5*2cm
1 x Nose Clip


Why choose our nasal congestion?

1. Snoring solution There are two magnets installed at the end of the nose clip to stimulate the acupuncture points and drag the airway. Magnetic snoring nose clips are a simple and effective way to prevent or eliminate snoring and enjoy endless restful sleep.
2. Non-toxic and odorless material silicone anti-snoring device, no peculiar smell.
3. No pain or damage to the nose, the anti-snoring clip can increase air circulation. - Eliminates mild to moderate snoring.
4. Easy to use, no surgery, no mask required. The snoring solution is also a great gift for a snoring partner or friend.

Snorer:

1. Fully insert both sides of the anti-snoring clip into the nostrils.
2. The bottom of the anti-snoring clip should touch the nasal septum.
3. It is best to wear the anti-snoring clip 5-15 minutes before going to bed and wear it all night.
4. Rinse the anti-snoring device with water after each use and store in the box provided.